Selecting Your Slabs
Please refer to page 1 before deciding your slabs. If there is a slab selection on page 1, Everlasting Surfaces, Inc. has already contacted that vendor to get the size and price of the slabs they have in stock and have based your proposal on those slabs. If you choose slabs from another vendor, whether they be the same material or different material, the price of the material might fluctuate according to the current size, price, and availability of the slabs with the new vendor. Also, make sure you check the slabs carefully. If you see something in the slab you don't like, don't select them. Depending on the layout of your kitchen, we may not be able to cut around the area you do not like. Also, inspect the back of the slabs before you select them. If you see a core hole or if slabs are cracked, Everlasting Surfaces, Inc. will reject these slabs and that in turn can delay your project.
3CM Slabs
If you select 3cm slabs, some things need to be done differently. You have two options; One is to not use plywood on top of the cabinets and recess plywood into the cavity of the sink and cooktop cabinet. Or two, you can use plywood on top of the cabinets, and you will have to use a wood trim to conceal the plywood. You must notify Everlasting Surfaces, Inc. with your desired choice before template date. Everlasting Surfaces, Inc. will not be held responsible for plywood being exposed when using 3cm slabs.
Slab Quantity
The number of slabs needed for your project is based on the original drawings that were submitted to Everlasting Surfaces, Inc. Once we do a template and compare the template drawings to the original drawing, we determine whether additional material is needed. You or your contractor, not Everlasting Surfaces, Inc will be responsible for purchasing any other material.
Template Date
All changes must be made before the template date. During your template appointment, you will have the opportunity to ask any questions such as seam placement and layout. Even though the installation of a seam may be discussed during your template appointment, the size of your material and your design will determine the final location of your seam to make the best use of the material. All under-mount sinks must be at the job site on the template date. If your sink is not available, the homeowner or contractor is responsible for bringing the sink and the sink template to Everlasting Surfaces, Inc. If you choose to reuse your existing sink, you must inform your technician the day of the template, so your sink can have a template made at that time. Please have all items removed from the top of your countertops. Everlasting Surfaces, Inc. will not be responsible for broken items. If the template technician shows up at your home and your kitchen is not ready for a template, a $150.00 trip fee will be charged.
Template Schedule
Everlasting Surfaces, Inc. schedules several jobs a day for our technicians to template. Once the maps are made, and the schedule is set, you will be given a call the day before your template date with a two hour window. It is vital that you be there during your designated time.
Changes
All changes including, additions, deletions, design, and modification of material must be discussed with the office before template date and should be discussed with our technician. Any changes that require another template date will result in a $150.00 charge. Please note specific changes may constitute a "Change Order" and can affect the price of the initial proposal.
Change Orders
All change orders must be signed and paid in full when the change is made.
Plywood
We recommend using 5/8" plywood on your cabinets to avoid your plywood being exposed underneath the edge of the stone. If your drawers touch the top of the cabinets, you will need to use 3/4" plywood to ensure you will be able to open and close your drawers without any problems.
Overhangs
Raised bars and peninsulas with an overhang of over 8" (when using granite), 12" (when using quartz), 4" (when using porcelain slabs) must have support underneath the extended plywood. You are required to have a corbel for every 30 inches of overhang. For example, if the raised bar or peninsula is 6 feet long, you will need to have three corbels, 30 inches apart to support the overhang. For porcelain the support must be 18" apart. Everlasting Surfaces, Inc. is not responsible for supplying or installing the corbels. You or your contractor must do this. If you do not have corbels in place before the installation, Everlasting Surfaces, Inc. will not be responsible if your granite cracks due to lack of support.
Template Layouts
Everlasting Surfaces, Inc. will only do a template layout on irregular material and will not do template layouts on uniform material. The technician will assist you in choosing the best area to place things. Layouts are done by appointment only.
Slab Viewing
Once your supplier ships your slabs to us, they are warehoused. Unless you are doing a template layout, Everlasting Surfaces, Inc. will not move your slabs for the sole purpose of viewing them. Please keep in mind; the more your slabs are moved, the more they become susceptible to cracking and breakage.
Upper Cabinets
If you are installing upper cabinets which will touch the granite, the installation of the cabinets should be delayed until the granite is in place.
Tear Outs
If Everlasting Surfaces, Inc. is to tear out your existing kitchen countertops we recommend that you clean out everything from your lower cabinets the day before installation. This is a very dusty process, and although we do our best to clean up after tear out, once we leave, dust will settle. We recommend cleaning your cabinets again before replacing your items. We will protect the floors. If your home has vaulted ceilings or opens up to other rooms and you are concerned with the dust getting into the other places, you or your contractor are responsible for sealing the area. Depending on the current application of your existing countertops and backsplash, at times your sheetrock will be torn off during tear-out. Although we do our best to prevent the sheetrock from being torn, we cannot predict which backsplashes will remove easily and which will split into sheetrock. Everlasting Surfaces, Inc. is not responsible for replacing torn sheetrock. The homeowner or your contractor must do this. When tearing out the existing tile in your garden window, we cannot guarantee that the granite slab installed in the garden window will remain level with the countertops. We also cannot ensure that the edge you select will cover the previous ceramic tile you had installed. Therefore, you may need to paint or refinish your cabinets once the new countertops have been installed. Once your existing countertop is removed and we discover your cabinets are not level we will not level the cabinets for you. Since the new countertop has to be level, we will shim the countertops to make them level. We are not responsible if the plywood is exposed once the countertops have been leveled. If you decide to keep your current garbage disposal, please inform the installers the day of installation while we are still at the job site. Otherwise, it will be disposed of and Everlasting Surfaces, Inc. will not replace it.
TEAR OUTS ARE AN OPTION - if it is not listed on page one, it is not included in the proposal.
Sinks
Under-mount sinks will be set and caulked in place by Everlasting Surfaces, Inc. Top-mount sinks will be set in place, but will not be caulked. This is to be done by your plumber. We leave the top mount sinks loose in case your plumber needs to make any adjustments. If you are using a Farm House style sink with the apron in the front, the sink must be installed before the template date. Do not connect the plumbing to your sink until after the granite is installed.
Plumbing
If Everlasting Surfaces, Inc. makes the tear out of your existing countertops, we will disconnect your plumbing and fixtures. However, we will not reconnect any plumbing, ranges or cooktops. We are not licensed to do any plumbing.
Edges
The edge listed on your proposal/contract is the edge that will be fabricated. If you have a different edge in mind, please inform your salesperson before template date. If you have an edge listed as an option and would like to have that profile, this must be done in writing before template date.
Backsplashes
If you are doing a 4", 6" or full backsplash in your kitchen, all exposed edges will receive a 3/4" demi bullnose detail. If the edge on your sink is an eased, standard, or mitered edge, your backsplash will have a 3/4" eased edge detail on all exposed edges. If you are doing a bath vanity, all backsplashes on vanities will receive a 3/4" eased edge detail on the exposed edges. If you have something else in mind, please advise your estimator and your technician. An additional charge will apply for anything other than the standard edges on the backsplashes.
Caulking
All exposed edges of your backsplash, as well as the areas where the backsplash meets the countertop, will have a caulking line. If your walls are not straight, some caulking lines may be thicker than others to compensate for your walls not being plumb.
Installation
On the date of installation, Everlasting Surfaces, Inc. will caulk the sink in place, drill holes for the faucets (We do not drill through the plywood.), and cut out for the switch plates if applicable. All faucets, cooktop or slide-in range, must be at the job site on the date of installation. If these items are not at the job site on the installation date, there will be a $75.00 trip charge if we have to return to make the necessary cut-outs. When we drill the holes for your faucets, the holes are drilled to the plywood. It is your plumber's responsibility to drill through the plywood and make the necessary accommodations.
Stages
You must inform Everlasting Surfaces, Inc. if your job is to be done in stages.
Sealing
Everlasting Surfaces, Inc. will seal all items fabricated and installed on the day of installation. If you are hiring another company to come out and seal your countertops, you must inform us before your installation date. You, the homeowner, will be responsible for sealing your countertops every six months to one year.
Cleaning
To clean your new surfaces, we recommend using mild soap and water. Do not use any products that contain ammonia or acid as this will strip your sealer and leave your stone prone to staining.
Payments
Initial deposit is due the day contract is accepted. Final payment is due the day we install your countertops. Please have a check ready or call the office the day of installation with your credit card number for final payment.
Credit Card Payments
Everlasting Surfaces, Inc. only accepts Visa, Master Card or ATM debit card for payment. There is a 3% sur charge for using AMEX.
Collections
Should your account go to collections for lack of final payment, Everlasting Surfaces, Inc. will revoke any discount given to you during the initial contract.
Add On's
If you decide to have something made of your remnant, this will be done for an additional fee.
Remnants
If you choose to keep your remnants, you must call the office and inform us on or before your template date. Your remnants will be delivered to your home on the day of installation unless you have contracted with Everlasting Surfaces, Inc. for additional work to be done. If you have another project to be done with your remnants we will hold them for up to 3 months. Unless we have received this notification from you, remnants will become the property of Everlasting Surfaces, Inc. Please be aware that small pieces are automatically disposed of.
Natural Stone Statement
Marble, granite, travertine, limestone, slate, and onyx are a natural stone that has been created by nature. These stones will have variations in color as well as veining. Some stones are more naturally pitted than other. Everlasting Surfaces, Inc. will not fill in these pits. We highly recommend that you take the time to hand-select and approve your slab before template date. Depending on the crystal structure of your stone, at the stone may have crystals that will pop out while being cut. Everlasting Surfaces, Inc. does its best to prevent this. However, you need to be aware that this is a natural characteristic of the stone and at times cannot be avoided. If the crystal does pop out, we will fill in the void with colored epoxy. If you choose not to hand-select and approve your stone, you will need to sign a waiver stating that you declined to select your stone and authorize Everlasting Surfaces, Inc. to make the best judgment on your behalf.
Scheduling
Although we understand how important it is for you to complete your project promptly, do not schedule your installation to begin at the same time you have painters in the house. Everlasting Surfaces, Inc. will have no choice but to re-schedule your project, and will not be held responsible for any delays in your job. We recommend either having the tile/granite work done first or the painters work first.
Materials
Everlasting Surfaces, Inc. will not be held responsible for any delays in material or shortages in tile orders. If you are short on your order, it is your responsibility to purchase the additional material. The amount initially ordered is based on the drawings or blueprints provided by you. Once we are on the job site and begin working, it may be determined that more material may be needed.
Grout
When the tile has been installed, and you have selected your grout choice, Everlasting Surfaces will set up a return date to grout your project. Once we grout your project and the grout has had a chance to set-up in the joints, the installer will then take a bucket of clean water and a sponge and wipe off excess grout from the tile. However, when the entire area has been wiped down and dries, there will be a film. We recommend you clean your tile using a dry cloth or broom. We will not be responsible for the final cleaning.
Grout Statement
Although Everlasting Surfaces, Inc. follows the manufacturers instructions for mixing grout, grout is known to vary in color and shading.
Sealing
Everlasting Surfaces, Inc. can seal your project for an additional fee. Please keep in mind that most sealants have a reasonably strong odor that requires proper ventilation, so please keep the area well ventilated for no less than 24 hours.
Cleaning
All tile and stone should be cleaned using mild soap and hot water. Do not use any product that contains ammonia or acid. Everlasting Surfaces, Inc. recommends sealing your tile every six months and sealing your grout.
Plumbing
Everlasting Surfaces, Inc. is not responsible for any plumbing. When plumbing is required on your project, you will need to schedule a plumber to coordinate their work with your installer.
Glasses & Mirrors
Everlasting Surfaces, Inc. will not be responsible for any removal or installation of mirrors and glass/shower enclosures.
Canceling A Contract
Under California law, from the day you sign the contract, you have three business days, including Saturday to cancel. After the third business day, the contract becomes legal and binding and can no longer be terminated by the homeowner.
Issues
Should you have any issues with your installation, you must submit your concern in writing via fax or e-mail. All questions or concerns will only be responded to via correspondence so that we may have a written and dated document of the complaint and can respond to you promptly. If you have a digital camera and can forward a photo of the area in question, please include that with your concern. Please fax or e-mail your concerns and complaints to the following: Fax: 925-667-3198
E-mail: [email protected]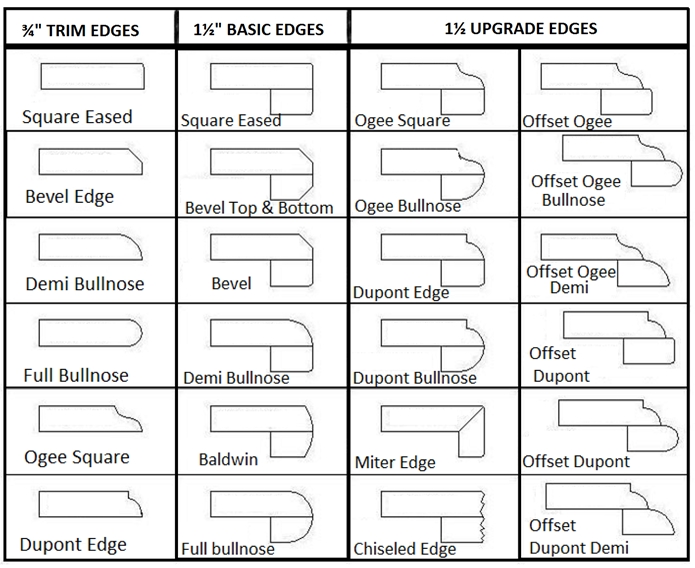 Choose from a variety of edges.
Next Steps...
There are several details that Everlasting Surfaces, Inc. offers to ensure quality craftsmanship and customer satisfaction. We will be happy to show you these special touches when you visit our showroom.